Students Succeed in Math with an Algebra Tutor in Norwalk, CT
In many algebra classrooms, you can squeak by with a barely passing grade if you simply have good attendance and cheerfully keep trying, but barely passing your quiz, mid term or final algebra test? Wouldn't it be better to get help from reliable algebra math tutor who can visit you directly at your home in Norwalk, CT explain you how to solve algebra math problems teach you rigorous concepts, and actually help student bring home a decent grade or a very good one perhaps?
With the help of an algebra mathematics tutor in Norwalk Connectut, you can learn concepts and skills in algebra with solid confidence. That way, you will be able to actually use algebra skills in order to earn a better score when you take standardized math tests for entrance into college or tests that can help you save money on college expenses such as Algebra CLEP exam, or state teaching certification programs, and/or graduate school tests or even tests for Adults such as GED.
And with the private instructor from Fairfield County area you can truly learn what you need to know in order to be prepared for upper-level math courses like calculus and trigonometry too. Why would any student who's struggling in algebra not want to get help from reliable mathematics experts who can help students get better grade.
Math subject matter experts, can re-teach the concepts your classroom math instructor covers in class and answer any questions that you have by providing clarified examples. Your math algebra tutor can also review your homework with you step by step, helping to clear up your misconceptions and catch silly mistakes. You may discover that you're lacking a few basic math skills that you should have learned previously in your academic career. No need for embarrassment! Many people have deficits in their math knowledge, and with an algebra reliable expert, you can pick up the skills that you missed privately.
Assisted Private instruction from a qualified math tutor is much more effective then trying to tackle mathematics concept on your own own, even if you use study aids, video courses, interactive courses or any other type of math study material there is simply no better substitute then a private local home tutor who can help you get better grades. Our Math tutors are better than your mom or dad, brother or sister, or grandparent (who may not have studied math for many years).
Algebra Math tutor in Norwalk, CT, can guide students through the maze-like learning paths of equations, factoring, polynomials, and other concepts in which you may be struggling. Although a tutor won't just give you answers to your homework like the back of your textbook or your best friend, your tutor will help you to understand your homework—and that's much more worthwhile in the long run. So, are you finally convinced you should hire algebra local home tutor in Norwalk, CT? If so, don't wait another second. Contact us from the phone number at the top right corner or simply continue further to see if we can convince you further.
Local Algebra Experts can help the following Norwalk CT type of Audience
We can help variety of student audience, such as
Adults,
College Students,
k-12 Elementary, Middle, High School Kids
Home School Kids
Math Educators trying to become certified teachers for the state of New York!
Private School or Public School Kids
What type of math tutor would you like?
Traditional or Hybrid Local Math Tutor?
Traditional tutor is the one that visits your home teaches your son or daughter math using student's school book, and tutor's book or any other supplementary resources.
Hybrid Math Tutor is the type of Algebra instructor who can teach your son or daughter with a tablet PC and intercombination of mathematical tools helping student learn math visually. To view more info about hybrid math tutoring service, view our Westchester County sister tutoring page, it explains in details what that is .
How does match making process work for Algebra tutors in Norwalk CT?
Simple scroll down to the bottom of the page, find your algebra tutor and send an email or call the tutoring agency from phone number above. Many Algebra Math tutors offer discount packages, feel free to check them out, here is an example of several tutors offering Algebra Math Tutoring Discount packages. Tutors shown below are just one of the examples.
Compare Algebra Tutors side by side.
You can compare up to 3 Algebra Tutors side by side
Can't afford any of the Algebra Math tutors? Why not suggest your hourly rate?
How can we help and what makes us different from other Algebra Tutoring Services companies servicing Norwalk CT
We work with students based on their budget, students can tell us their budget and we can help students or parents find reliable algebra math experts near Norwalk CT within that budget and if your budget is to small we would recommed other Algebra Learning options as oppose to simply saying no. This makes us different.
Another great thing that makes our Algebra Match Making Math Tutoring Services for Norwalk CT area residents different is the fact that we are targeting our aidience using localized approach, rather the having one huge site how many other companies have it and offer one size fit all type of model for tutoring match making.
Plus we do not just focus on Academic level type of math but we also help students with variety of other Algebra related subjects math, for variety of tests, such as SAT, GMAT, GRE, CLEP and even teaching certification tests.
We are different because we have many different algebra learning options that we can recommend to parents, at different grade levels such as elementary, middle school, high school, college, adult.
Also our company is founded by math teacher who knows what parents need and has deep core values in education.
Additionally if your son or daughter needs another tutor we can assist with match making parents not only with Algebra Math tutors but with other math subjects or even non math subjects, such as English, Biology, Chemistry, Physics, Breakdancing, Computer Networking you name it!
Hence what that means is you do not have to deal with multple agencies to help you find reliable expert, instead you would deal only with one company Tutoring Services, LLC and let us handle your match making.
Additionally we specialize in online math tutoring match making, something that many other home match making companies simply do not offer, this gives us unprecedented competitive advantage over any other local tutoring agency college or university or even learning center. It gives competitve edge because now parents can pre-screen their tutors online, something that local home tutoring services can not do in a controled state environment, resulting in misunderstanding improper match and no quality assurance. This gives us higher competive edge and makes it very easy for us to beat many competitors.
We are more then just Algebra Math match making company servicing Norwalk CT

Additionally we are not just match making company specializing in online math tutoring, but also happen to have lowest tutoring comission agency fee, the reason for that is because we also happen to be marketing educational company who have strong social media presence such as Facebook.com/MathTutor and robust local tutoring network of websites servicing Westchester and Fairfield and New Haven county area. This level of marketing advantage gives us flexibility to have reduce marketing costs, easier method to recruit new algebra math tutors and offer Norwalk CT students higher level of Money Savings plus higher quality match making service.
However match making is not the only thing we do, we are also IT Solutions Company, who specializes in building IT Network Solutions, Mathematical Whiteboard Tools for colleges/universities learning centers and other businesses not necessarialy in education industry making it easy for us to relay these math solutions to Tutoring business sector, and making it much easier to create innovative 21st century mathematical solutions that can help students of Norwalk CT learn Algebra Math. What that means is we can craft up and network multiple concepts together to help students of Norwalk CT learn math faster, better and more efficiently.
Another thing that differentiates us the most is the fact that we are also a test prep company helping students with math and even teachers get certified for their teaching certification tests. Check out some of the study guides for teachers we compiled together from multiple study vendors, some of the study guides we create ourselves.
Algebra Math Tutoring Servicesf or Norwalk CT Students
Which method would you prefer choice is yours? If you are confused about any of the methods, feel free to continue reading or call us on the phone number above or email us at This email address is being protected from spambots. You need JavaScript enabled to view it. or our Tutoring Specialist to help you with your Algebra Learning Needs.
On the budget? Need Algebra Math tutor, but fail to find a good one locally in Norwalk CT?
Or perhaps you need additional supplementary math test prep with the help of an online algebra tutor?
Our company specializes in local algebra math home tutoring match making and online tutor match making. Online algebra mathematics tutoring for Norwalk CT students on the budget who can not afford local algebra home instructor are great way to get their sons and daughters on track with math studies. To find out more about our online mathematics and home algebra tutoring options and information parents click this image link below. We provide online math tutoring for Fairfield and Westchester County residents includign cities of Norwalk, Greenwich, Darien, Fairfield, Westport and other areas..
We have the best online Algebra math tools for more effective Algebra Learning

Request a demo today!
Best Algebra Online Math Tutoring for CT and NY residents

Contact Tutoring Services, LLC by phone number on top righ corner to help us match make you with online algebra math tutor today!

Creator of this Whiteboard Solution is DBA Binary Fusion if you are a company and like similar solution integrated we can help companies integrate video conferencing solutions and technology workflow oriented projects.

Do not like tutoring agency fees how about not going through our tutoring agency at all?
Another unique attribute that differntiates us is that we do not just provide local tutoring match making through our flexibile high quality algebra tutor and student match making service, but we also present another option to parents who simply do not want to work through the agency and do not want to pay recurring match making comission fee to the agency and instead prefer to strike their luck on their own by searching for algebra math tutor on their own, and specifically for such type of parents we created www.TutoringServices.com site for independent math tutors. If you do not like recurring middle man fees and do not want high quality match and do not want high quality hybrid math algebra tutors then this site can be of great help.
However keep in mind that you may end up finding tutors who simply can not be compared to what we offer with our algebra match making tutoring services through our CallMyTutor business system which is also part of Tutoring Services, LLC umbrella, it's like comparing apples to oranges. If you want tutor cheap fast, and quick without middle man recurring comission fees and do not mind paying $15 initial fee for first trial lesson that many tutors are ok with providing, then TutoringServices.com site is for you. However if you can not find what you are looking for and want high quality math tutor, then contact our agency from the phone number on the top right corner or simply send us an email at This email address is being protected from spambots. You need JavaScript enabled to view it. or simply search for algebra math tutors and study guides on this very same norwalk tutoring page.
Hopefully by now you have seen, how different we truly are compare to other Algebra Math Tutoring Services. Also we bet you have never seen an agency that tells parents that there is an option for parent not to even bother going through an agency and spending money on agency fees. Why on earth do we tell you this? The reason is simple, we do not only focus on match making we focus on variety of business sectors where match making happens to be one of them, therefore, if we make money through match making or through www.TutoringServices.com $15 Trial that student/parent must pay for first lesson and our agency therby would have lower overhead then what we would have with higher quality service such as match making based on client needs, then that's also fine to us.
However we are still confident that many parents who read this would end up contacting us and working with the help of "Tutoring Services, LLC CallMyTutor" agency to help them get matched with reliable algebra math tutor, the reason for that is simple, we can beat any price and have better quality algebra math tutors. Hence what that means is even if you do not see the right price, you can still contact us and we would work with you to help you find someone within your budget or tell you that your budget is not appropriate for this area and provide you with alternative options. This is primarialy the reason why parents work with us.
Also there is one more thing we are different because we literally have multiple math learning options to offer to Norwalk Parents who want their sons or daughters get better grades.
Our Independent Contractor's Norwalk CT Tutoring Services are tailored towards the following audience
We can help variety of student audience, such as
Adults,
College Students,
k-12 Elementary, Middle, High School Kids
Home School Kids
Math Educators trying to become certified teachers for the state of New York!
Private School or Public School Kids
To find an algebra tutor in Fairfield County CT and Norwalk city contact Tutoring Services, LLC a tutoring agency that specializes in helping parents/guardians find affordable and reliable algebra math tutors. No matter what algebra class you're in—pre-algebra, Algebra I, Honors Algebra, or Algebra II—Tutoring Services, LLC can help you find Great and professional algebra math tutor in Fairield County CT.
Topics our Math Algebra Tutors Servicing Stamford CT can help students cover
Algebra learning resources for home school Norwalk CT kids.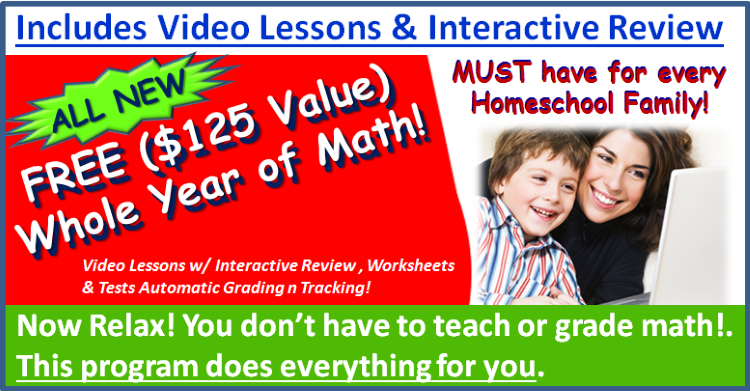 This covers pre-algebra and algebra elementary levels grades 1 through 6!

Don't have money for a local algebra tutor to visit your son or daughter in Norwalk Connecticut? Need help in Algebra, Pre Algebra math? Here is what we recommend to Westchester County and Fairfield County parents for their home school kids in who simply need help algebra subject, or any kids looking for algebra help.. This program is very cool and very affordable that beats local and one on one tutoring prices by far!
Hence if budget is an issue and you simply want to have your kids jump onto a computer and study math in a nice interactive way then this is the program for you. Note for more reasons why algebra math interactive video study course is great learning resources for Westchester and Fairfield County Parents including residents of Norwalk Connecticut visit this link.
We feel that this interactive video course is a also greate supplementary math video course, in addition to hybrid math local tutoring or online math algebra tutoring!
Need Help in other Math subjects similar to Algebra? We have Study Guides at k-12, College grade levels
We have variety of Mathematics Subjects Study Guides, not just in Algebra but other Math subjects.
Tutoring Services, LLC is going GREEN helping Fairfield and Westchester County area and Norwalk CT students save money on College Algebra book expenses!
Algebra Mathematics College Textbooks for Westchester/Fairfield County Colleges or other School and Campus Students at Affordable Price!
With a college algebra textbook you can review aspects of Mathematics course that are hardest for you to grasp, from linear equations to polynomials, from basic to advance linear algebra. But what good will the math algebra book does for you if it's not affordable enough for you to buy one? We believe education should be affordable, which is why we created UsedCollegeBooks.NET website to help college alegbra students buy and sell their algebra textbook directly to or from each other at the fraction of the university or college bookstore expenses, avoiding shipping fees and middle man all together and helping environment stay green by reusing old Algebra textbooks. The way it works you can simply register on the site free of charge and post textbook you would like to sell in either of the following universities in Westchester County NY. Students will find your book and contact you directly, that way you can save money on expensive shipping fees or bookstore fees and help the world stay green by reusing your textbooks. Tutoring Services, LLC is all about helping save the environment.
If you are attending norwalk community college or other college, and looking for books, UsedCollegebooks.net is a great place to search for used books!
Exam and Teaching Certification Help for Mathematics Educators Trying to Become Certified Teachers in the State of CT or NY Westchester and Fairfield County

We help Mathematics Educators and Future Connecticut Teachers get jobs and not only help teachers get jobs, but also help teachers prepare for their teaching career, by helping them prepaer for the state teaching certification tests. We have study guides in the form of flash cards, exam secrets for various exams including but not limited to Praxis 1 and 2, NYSTCE, MTEL, CSET, FTCE, MTTC and other major tests which states require. Our study help material can help future teachers/educators get passing score on their test.
Simply browse through our collection of math test prep study guides and buy your teaching certification exam prep material to help you pass your test or contact us to help you locate your teaching certification resource. Alternatively if math study guides does not help you, then consider contacting us to match make you with one of our mathematics experts online or in person to help you prepare for your teaching certification test. Teachers if you are interested in preparing for any other teaching certification exam for whicy you are trying to study, please visit StudyGuide.NET StudyGuide.NET or for CT based teachers taking Praxis 2 exam, please visit Praxis2.org
If you are confused about any of these Norwalk Algebra Edu options presented to you, we encourage you to pick up your phone and contact us to discuss your educational Mathematics Algebra needs or search for your tutor directly from our site! Or send us email through This email address is being protected from spambots. You need JavaScript enabled to view it.
We Offer Tutoring Also In Nearby Cities:
Search for tutors and study guides in Algebra, below or contact us by phone number on top right corner to help you find reliable algebra math tutor.